Nicolas Audemar
Country Manager France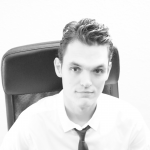 Nicolas, a graduate in business and management from the IMMD of the University of Lille, but also from the IAE of Perpignan, collects certifications in SEO/SEM and Inbound Marketing.
However, studies have not stopped Nicolas from making his way. Speaking several languages, he is already leading several entrepreneurial lives at the same time. From his laboratory, Nicoseosem.com, which he launched in 2011, he quickly became the expert for SEO agencies.
And since then, the challenges have followed one after the other. In addition to the sites that he develops on his own, in parallel with his agency activity, Nicolas, who also travels a lot on both sides of the Pyrenees, has been Country Manager France for SISTRIX since 2019. One of the very first tools to obtain reliable data to improve its search engine referencing.
Attentive to the smallest details, capable of deciphering, with virtuosity, the guidelines of the Grand G 😊, as he likes to say, he knows how to find ways to increase the number of visits and sales or quality leads.
Hearing Nicolas speak, with passion, about the profession he is an expert in, immediately brings to your fingertips the decisive role of mastering SEO to make a website profitable. But not just any mastery of SEO.
This is where all of Nicolas' art and know-how lies. This is at the heart of his expertise and the originality of his approach. That's why listening to Nicolas and exchanging with him is always very fruitful.